Flamecraft Shop Organizers
Universal Table Topper Storage
Jasper Card Holders
Under Table Storage Mounts
What Gamers Are Saying
Received and installed everything. It was so awkward to store excess cupholders and side trays before, but now its a breeze. Now I have an empty shelve I can use for new board games :). Thanks for an amazing upgrade

Ivan
Received and installed. They work great! Awesome job design and making!

David
Received cup trays, under table storage, and 4 side rails. Quality even better than I expected and great 3D printing. Fitted the 4 side rails with a cordless screwdriver in 15 minutes. Great product- thanks!

Alan
Received mine today, they add much needed functionality to my Jasper table. The colors came out really great, I particularly like the red, orange, yellow, and purple.

CJ
I really like how they look and am excited to be able to store my accessories under the table. Also, I love the two meeples of holding we received. We chose an orange and a green one and they both look great!

David
Board Game Table Accessories
Our products are designed to be compatible with the Jasper and Duchess gaming tables and accessories from BoardGameTables.com™.
Additionally, you can mount our products to other tables to use your Jasper accessories elsewhere around the house, or to convert another table into a gaming table.
Subscribe to our email newsletter
Find out about new product launches, new colors, and our upcoming Kickstarters. We'll send you about 1 email a month on average.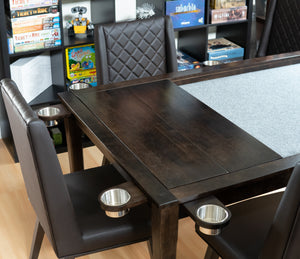 What is this Jasper Gaming Table anyway?
The Jasper Gaming Table is a convertible table that can be used for both gaming and dining, made by our friends at BoardGameTables.com. Gaming Tables have a recessed gaming vault to keep all your dice, cards, and meeples from falling onto the floor.
You can learn all about it on their website and purchase first-party accessories for the table at the link above (no affiliate marking links here, we just really like our Jasper as we think you will too!)
Geode Gaming
We've been 3D printing gaming accessories for years, and have been designing and printing parts for other industries even longer.  We decided it was time to start sharing these accessories with everyone, printed on our in-house printer farm in San Diego, from high quality materials designed to last a lifetime, just like your gaming table.